Overview
The Dalmatian Islands in Croatia are among the most famous in the Mediterranean region. Wild, rugged, and hiding a thousand-year history, many are protected as national parks and offer a varied and diverse cruising ground for an Agana yacht charter vacation. The cruising is splendid, encompassing long and short passages to charming anchorages amid rocky islets, ancient villages steeped in history, and translucent waters. 
An Agana yacht charter typically focuses on the more than 30 islands off the central Dalmatian Coast from the city of Split, including lovely Šolta, Hvar, Vis, and Brač, to the more southern islands of Mjlet, Korcula and others.  Mjlet is the purported location of Calypso's Cave, where Odysseus was shipwrecked and held captive. The Kornati National Park lies to the north, with a mostly pure, if barren, natural landscape. So many small and large islands are in the park it has been likened to a maze of unparalleled natural beauty. Anchorages offer pristine beaches, lively nightlife, fine cuisine, secluded coves, fascinating historic sites, and an unspoiled natural setting.
What to expect on the Dalmatian Coast
Croatia has most of the culture and allure of its Adriatic Sea neighbor, Italy, but with better breeze and lower prices.
We travel there in September when the weather is milder than mid-summer, and more importantly, it is less busy, as most Europeans vacation in July and August.  We sail one-way from Agana Marina (near Split) to Dubrovnik.  Sailing and navigating is straightforward with few long passages, great weather forecasting, and moderate sailing conditions 90% of the time.  Skippers will want to come with some practice with med style mooring (dropping an anchor in the harbor and backing to the quay) to feel comfortable their first time. This approach throughout the Med is due to the number of yachts and the smaller harbors.  Med mooring is much simpler to master than it may sound. Once your hook is down, it tends to direct you to the quay, even if the wind and prop walk are trying to push you off course. It's even simpler on a twin-engine catamaran.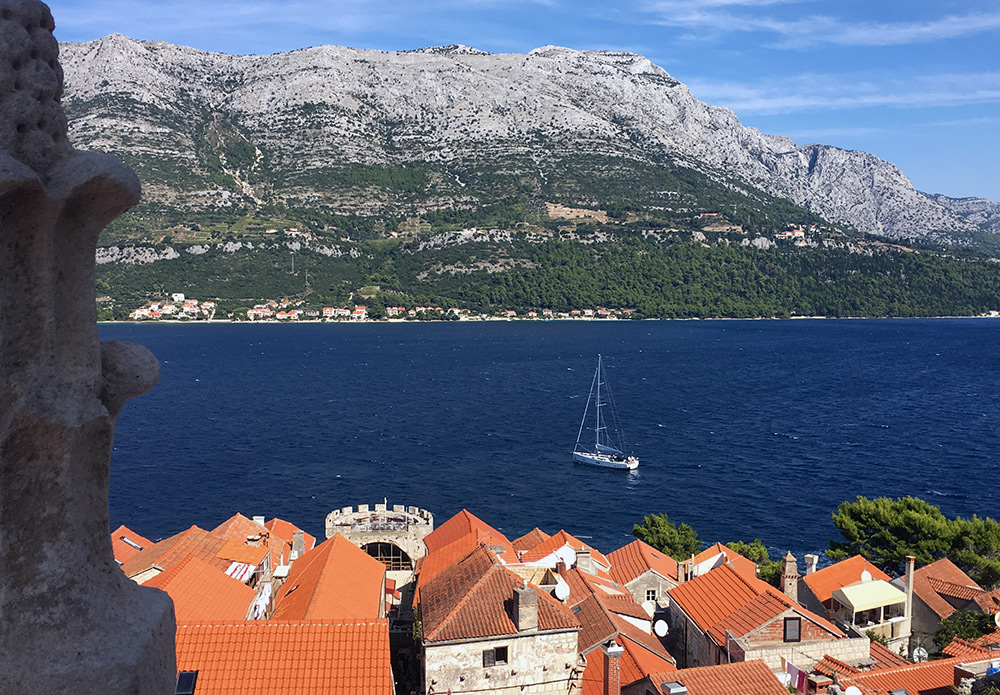 For Veterans of the Dalmatian Coast
Kornati National Park is an unspoiled group of islands just north of our starting point in Agana.  Most first-timers skip it because there's so much to see on our way to Dubrovnik, But, if you are entranced with natural beauty you might consider two or three days there before following the flotilla south.
Plans for our next Croatia Flotilla
We will likely sail the middle two weeks of September 2025. We will offer a mix of 40' to 52' and monohulls and catamarans, depending on your interest.  We'll also have at least one boat with a former OCSC instructor who will act as skipper and informal coach if you are looking for a safe way to practice all your boat handling and seamanship skills under the eye of a professional.  We'll hold a series of planning parties that serve as networking for you, and where we'll provide more specific details on the islands, ship-board life, how best to get there, and how best to prepare.  These will start about a year in advance, around Fall 2024. Stay Tuned!
Next Steps
If you think you might be interested and wish to be contacted when we start the planning process (Spring 2024), email us at rich@rmjtravels.com and we'll put you on the list!  Feel free to list specific interest – skipper or crew, cat or monohull, etc.
Favorite Destinations
It is difficult to choose a favorite island, so I'll list a few favorites and why.
Vis
Vis is a bit out of the way so is visited by fewer yachts.  It has a huge but protected bay, a long shoreline, and plenty of space for yachts. The town is adorable, very European, historic, with a wide boulevard between the quay and the shops and restaurants that line the bay. Life on the island is slower paced and romantic.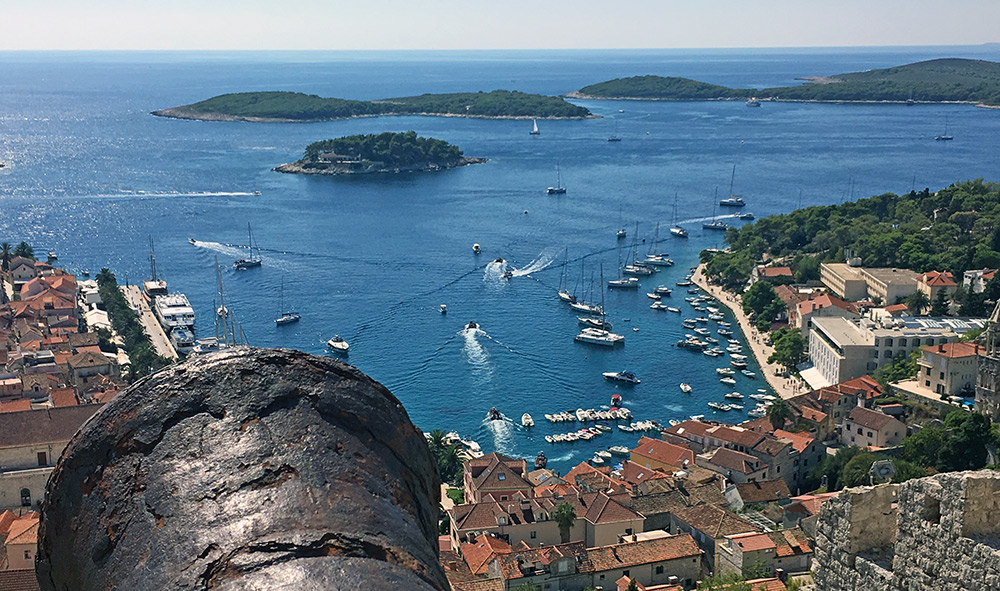 Hvar
This is known as the party center of the Dalmatian Islands!  If you know us, you might wonder why it is on my favorites list. Hvar offers different environments. During the daytime, it is a shopper's paradise and is interesting for historical architecture fans.  It has a fort overlooking the harbor with beautiful views of the town, harbor, and nearby islands.  The restaurants are to die for.  The night life starts to gear up around 9 pm and generally runs until as late as 4am!  For this reason, we keep the yacht at Palmizana, a short water taxi ride away. It's a quiet marina with showers and other amenities.  But if partying until the wee hours is your jam, there's plenty of quay space in Hvar Town!
Mljet
Mljet has an island within the island!  In the middle of a large inland lake is a monastery on a small island, accessible by water taxi and a moderate hike from Pomena harbor on the Northwestern tip of the island.  Mljet has a large national park and biking or taking a taxi tour are definitely called for.  We had a fantastic lobster feed at a Pomena restaurant, and moored on the quay in front of it!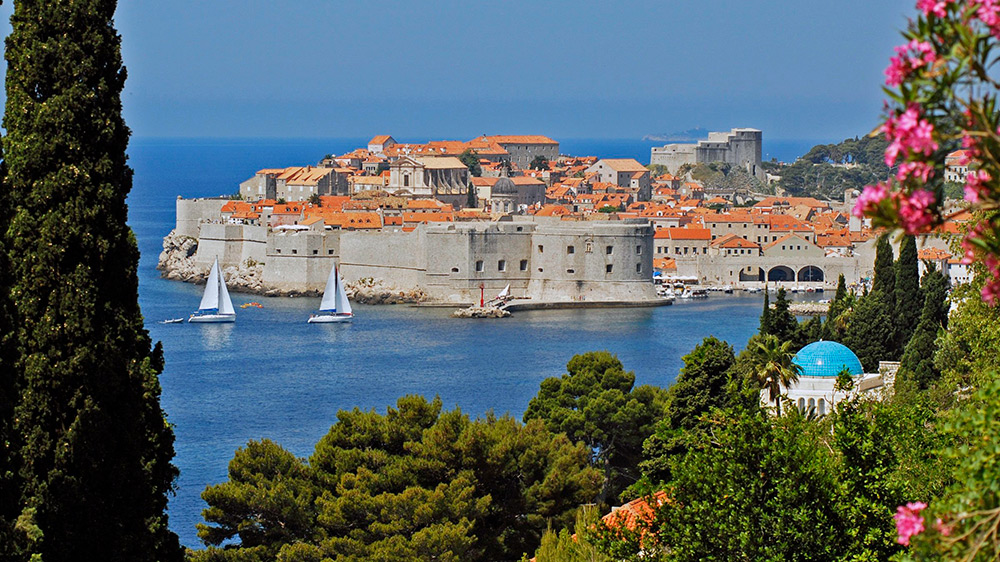 Dubrovnik Fortress and Old Town Dubrovnik
The crown jewel and most famous of the Dalmatian Islands always seems to exceed visitors' expectations. The fortress and old town, located in the southern part of the city, are imposing and beautiful. The fortress walls loom high over the water and the old town inside is classic. There is something for everyone, from shopping, to museums, to cafes where the people watching is fabulous.  The views from the fortress wall promenade are unforgettable!  Also, you return your yacht to Moorings/Sunsail just a few miles north up the Dubrovnik River. We'll help you plan that leg for the easiest finish to your adventure.