BVI Flotilla April 19-29, 2023
The 2023 edition of the RMJ Travels pilgrimage to 'Disneyland for Sailors' is a wrap, with 35 sailors on six boats enjoying the turquoise waters, fantastic snorkeling and sailing, and some of the best beachfront bars and restaurants in the Caribbean.
The travel was easier than recent years with COVID testing for entry finally a thing of the past.
Skippers ranged from first timers (my younger brother Bill with family and friends and David Malmud with close friends and wife Jaci Urbani) to very experienced skippers like James Jenkins,  Tim Sample and Scott Alumbaugh.
The boats were, as always, really independent, choosing their own paths and mooring fields or anchorages, but the size and shape of the BVI archipelago meant we were always finding two or more of our boats at each stop!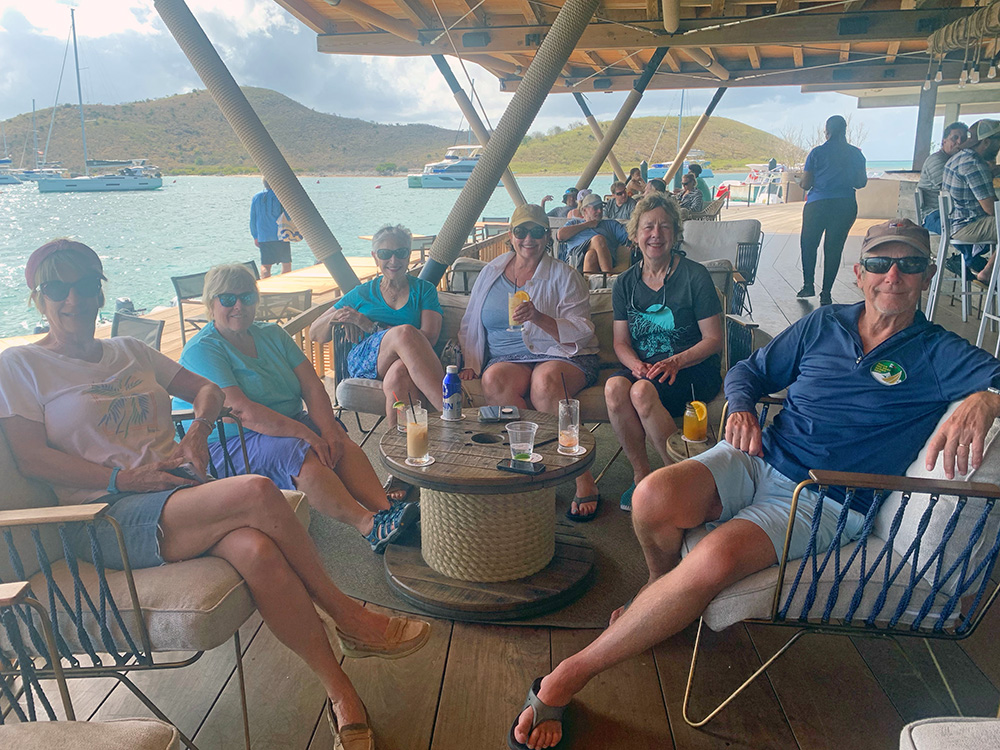 Our boat, a Moorings 5000, was crewed by really long time, close friends of Cecilia's and mine, Carole Reeves, Kris Wolf, Tina Mottram and Lou Anna Koehler.  We had a total blast, including a challenge to provision and bring one's favorite cocktail to the boat, with a different 'cocktail of the night' each night.  Of course, Painkiller made an appearance as did some exotics.  We also ended up being a common party platform for boats that congregated for happy hour.  One night David Malmud, who, in addition to his career as an ER Doctor, is an amateur 'mixologist', and one of his crew, Amy Paradis, a RN and an amazingly talented cocktail-master, schooled us all by inventing some creative and incredible cocktails for our two-boat happy hour.
The natural environment was wonderful, while we had a day of off and on showers, the other nine days were spectacular with 15-20 knot warm trade breezes.  Our forays into the water to explore that underwater world were rewarded with hundreds of colorful reef fish, sea turtles, tarpon, moray eels,  and even a barracuda.  I was impressed, given the damage done by the hurricanes, how much the coral populations were growing again, with lots of 'green shoots' of growth, making the reef fish happy and us encouraged.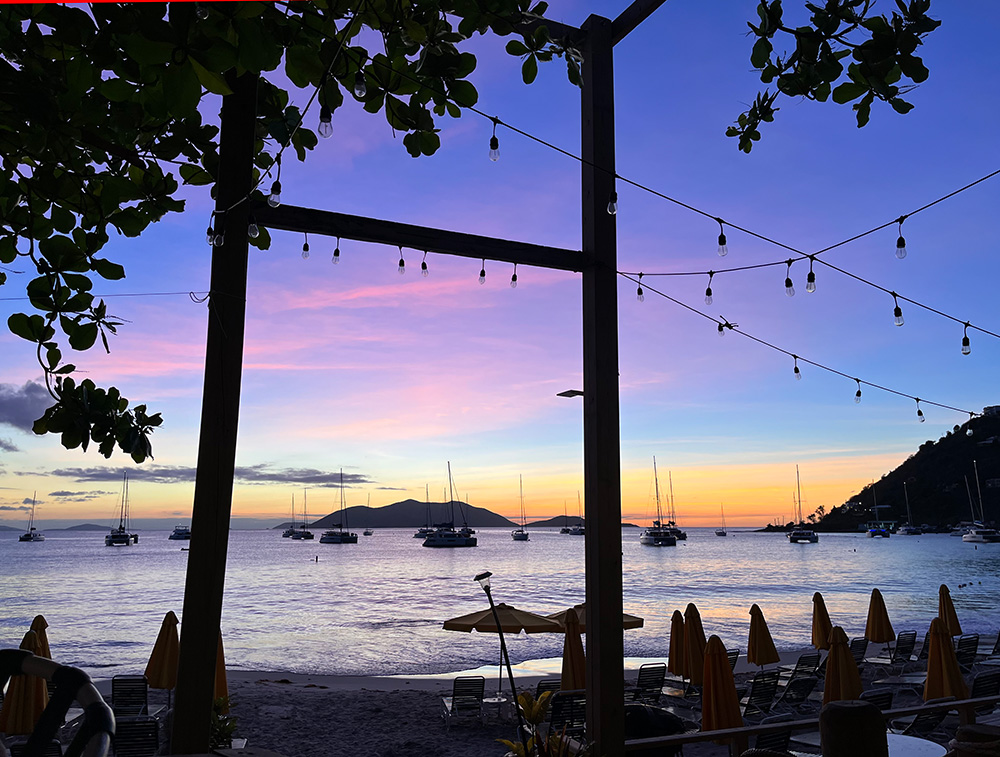 And, as always, The Moorings took great care of us, from our Group Agent, Lisa Mayo, in Clearwater, who continually made magic to help us put this trip together, to the base staff at Wickham's Cay, who provided us perfectly clean and operation sailing yachts and provided early arrivals to great hotel rooms, wonderful restaurants and a pool and spa to add to our luxury.
We'll be back to BVI again soon, so stay tuned and if you want to join the next flotilla, be sure to let me know through the website!