Bali to Komodo Island with SeaTrek Recap
August 2022
Many things draw us to Bali and the eastern Indonesian islands:  The amazing stories from friends, the abundant travel stories on the web, its popularity among Hollywood directors including the iconic 'Eat, Pray, Love'.  
Cecilia and I had longed to experience its magic and charm, but work, life and then, just as we were set to go, Covid, kept holding us back.  But, finally, with a group of 11 other intrepid friends we finally made it to our dream cruise in August of 2022.
We sailed with Sea Trek Bali, a wonderful group of people, from the regional manager to the naturalist, ground operators in Ubud and the crew of Katharina, our 119' Panisi Ketch.
Getting to Bali, of course, is quite the flight, averaging well over 20 hours for most of us from the West Coast.  So we ensured there would be jet lag recovery time before boarding Katherina.  
Sea Trek Bali engaged with a great ground operator who placed us at a resort near Ubud that exceeded already very high expectations, Kamandalu Resort, with its very cool vibe and 5 star accommodations, was our base for the first three days of the adventure.  This palatial resort had excellent food, one of the better pool bars we've seen, hosted an outdoor dinner, followed by a haunting and riveting Balinese Dance performance, accompanied by the most incredible traditional Balinese Gamelan orchestra.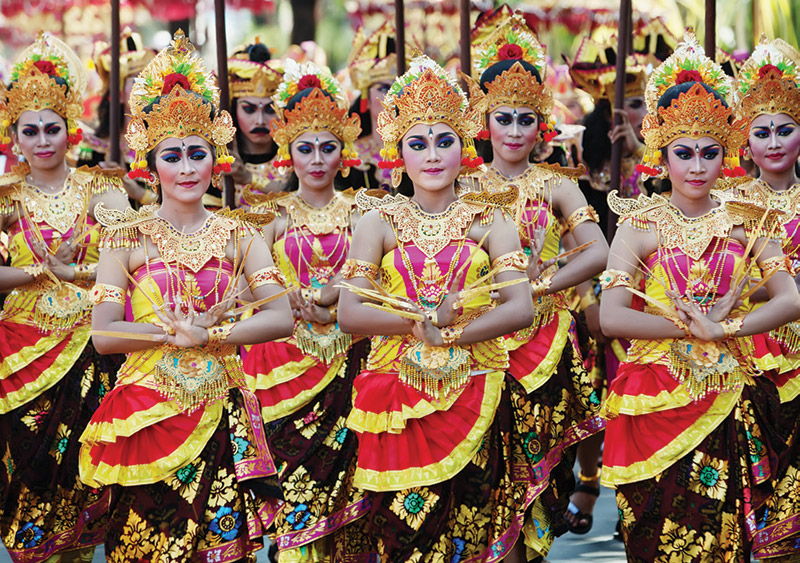 The next day had us on a walking island spices tour, by the local spice shop owner; really interesting history and science of the spices produced in Bali as well as a master class on the wild and the cultivated flora around us.  Of course we finished the tour at his spice shop where we were pleased to buy spices, souvenirs, tinctures and perfumes!
Day three found us in a Batik class, learning from a master Batik artist and his assistant teachers.  Having only moderate talent at art, I was dubious, but with a ton of assisting and fixing of my errors, they helped me create something that I actually was proud to hang in our home!
We also toured the countryside by bus and had a meal at a restaurant cantilevered on a cliff with floor to ceiling windows facing a beautiful lake and imposing volcano. Quite inspiring scenery.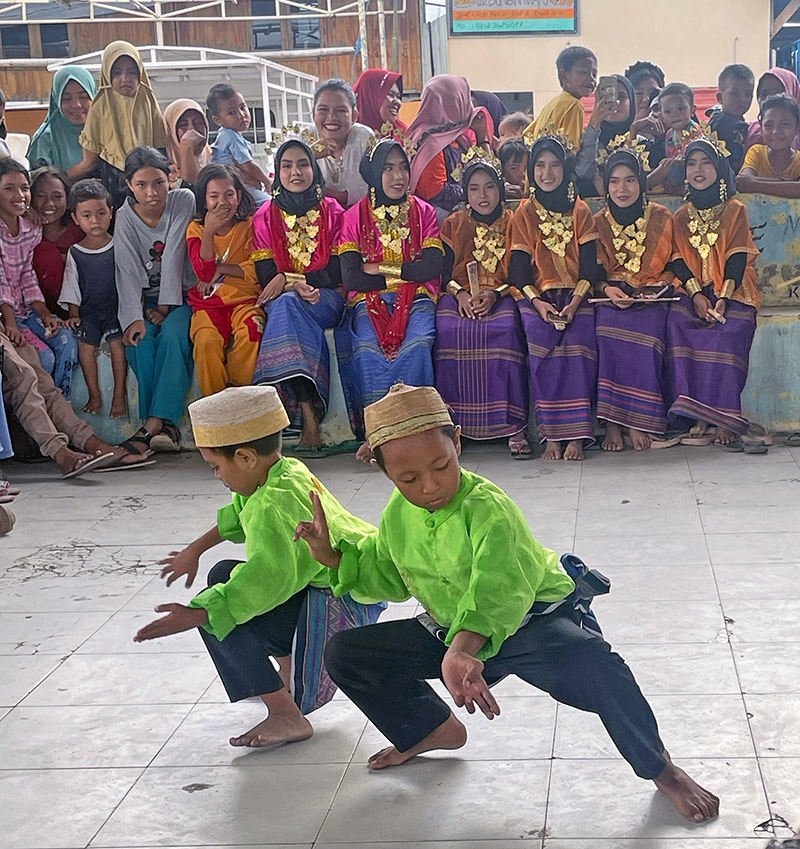 On our last evening, we visited a palace where we were hosted by an authentic Balinese Prince who ate dinner with us and took photos.  While he was quite slight, he was striking looking and seemed to get the attention of the women of our group who insisted he show more of his chest tatoo….in the interest of cultural education, of course.
On Day Four, it was time to meet our crew and board the Katharina!  We were bused from Kamandalu Resort to the coast where we were met by the shore boat to Katherina.  She was gleaming and, to this sailor's eye, kept in Bristol Fashion.  We were greeted by our naturalist for the cruise, Anastasia, with whom we would all fall in love due to her deep knowledge of the natural wonders of Indonesia, her constant attention to our needs as well as her impressive free diving skills and, as we would learn later, incredible singing voice!
This was an eco/cultural cruise. Part snorkel trip, part college level anthropology course, part nature hike.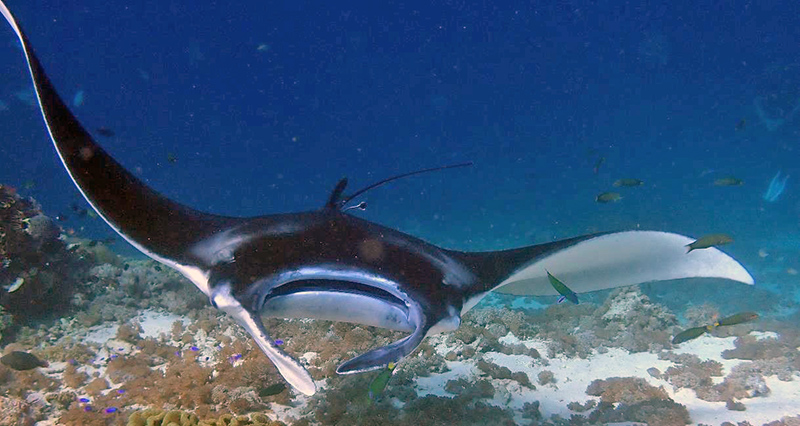 Firstly, the water wonders; We snorkeled every day and the coral and sea life were unlike anything we'd seen before in the Caribbean or South Pacific.  Corals we'd never seen, new reef fish that we needed to ask Anastasia about and some serious larger animals.  We swam with whale sharks, plankton eating 25' behemoths with mouths large enough for us to swim into. No, we didn't.  We swam with a manta ray that Anastasia estimated as having a 10' wingspan!  One of the most incredible experiences, nearer the end of the cruise, was drift snorkeling.  Two Zodiacs would drop us off at the up-current end of a vast coral field, all about 8' deep with a 2 knot current running.  We would float with the current.  I spread my arms and fantasied that I was flying over the field as it passed beneath me at just the right speed for viewing.  The Zodiacs would pick us up at the down current end 20 minutes later and take us back to the top of the 'ride' for another drift!  
On the cultural side, we were welcomed in several villages.  The first visit included an elementary school where we were serenaded by the school children, kicked a soccer ball around with them and exchanged gifts.  By which I mean we gave them toys and money! We were greeted in one village by a formal Balinese Warrior Dance with, it seemed, the entire town turned out to see how we found it.  We found it wonderful.  Then we were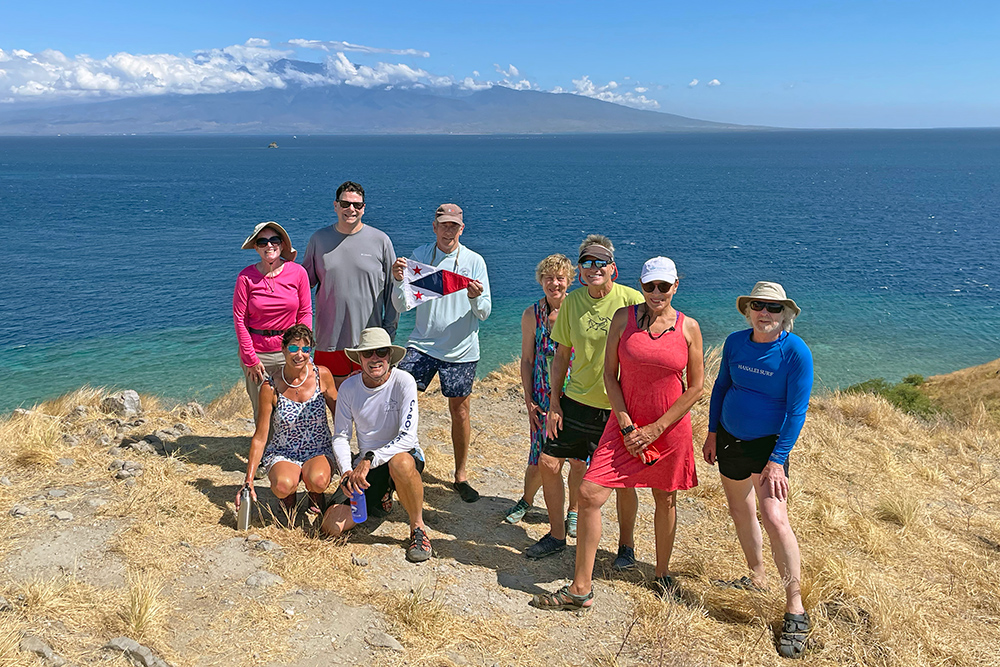 led by a town elder around the town to see and be seen as the children surrounded us, ran ahead of us, kicked balls with us and tried their English out on us.
We had incredible hikes: Sometimes as above, through stilt villages on the shores of low lying islands, sometimes up steep hills with expansive views of the Indonesian Sea, once on a hunt for the legendary Komodo Dragon.  Our Komodo hunt had two options, short, flat 2 mile walk near the coastal town or hilly (mountainous?) 5 mile hike into the interior.  I opted for the longer hike, for, after all, wouldn't I have a better chance at tracking down one of these monsters?  Two of our crew opted for the short walk.  And, of course, they saw about 7 dragons to our 2.  And, what menacing looking animals.  They were other than aggressive but the local naturalists were careful to keep us on the tail sides of the creatures.
One of the magical parts of the trip, like almost every trip we are blessed to lead, was how the guests bonded.  Some of us have known each other for 20 years and others have only met in the parties we held to prepare everyone properly. Sharing this magnificent experience with close friends, new and old, turbo-charged the experience for everyone.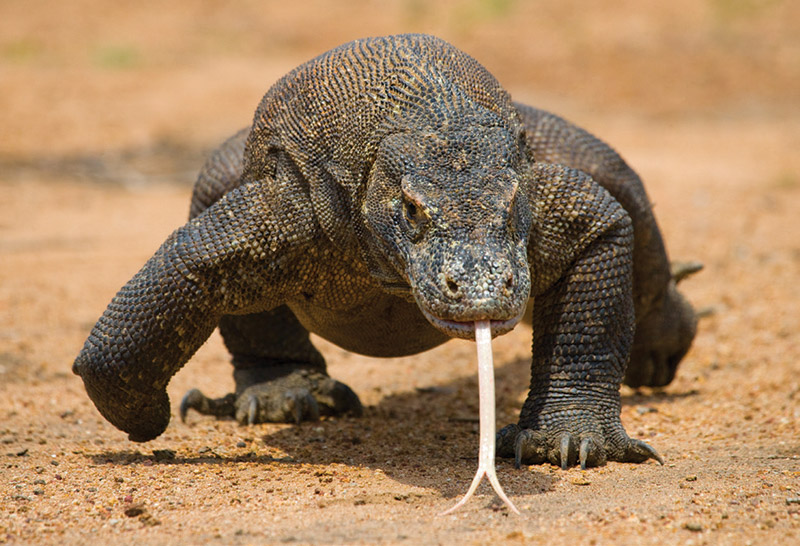 I'll call out David Malmud, an ER doctor and long-time OCSC skipper, as he was, naturally, quite useful for the occasional advice and treatment of small medical issues, but he absolutely dazzled with his mixology knowledge and cocktail skills.  David not only crafted fabulous cocktails for us but also coached up the bartender on board who learned to prepare at least five more exotic cocktails by end of cruise.  We were well served, to say the least.
And, near the very end, the crew took us ashore to a deserted beach, on which they'd set up a great BBQ dinner, complete with bonfire and musical instruments!  Yes, the crew was a band!  They played some old American favorites as well as some Balinese.  We all sang together and discovered that Anastasia, as great a guide as she was, might be in the wrong profession.  Perfect pitch, great resonance and singing with heart and soul.
And, alas, it was time to say goodbye to Anastasia, the crew and skipper, and Katharina, herself. 
We had one last adventure before making our way home, another incredible resort, this one on the beach of Bali, Puri Santrian. Opulently appointed guest rooms, Six pools!, on a boardwalk above the beach. A perfect way to wind down at the end of the trip.
I reflect often about the unique atmosphere of Bali, the spiritual friendliness of the Indonesian people.  As exotic, attractive and romantic as can be imagined it is far from the hustle and bustle of 21st century America.  Kindness was the word that kept resonating with every encounter.  They are, in the vast majority of experiences, kind, happy, loving, spiritual.  We hope to make it back someday as it was a bit of a cultural drug; addicting and life changing.  Eat, Pray, Love, indeed.