Costa Rica Eco Tours and Panama Canal Transit
on the National Geographic Quest
February 17-24, 2024
The verdant coastline of Costa Rica; The engineering marvel that is the Panama Canal; One of the most well respected expedition ship companies in the world, Lindblad Expeditions. This is one of our most asked about destinations and Cecilia and I are finally leading this after years of delay due to Covid!
Like most small passenger vessels, this 238', 100 passenger vessel has a variety of types of staterooms described in the brochure.
Since the brochure doesn't provide granular details on the staterooms, to get a better sense of each stateroom type,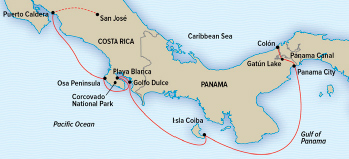 If you have interest and questions, please fill out the questionnaire below! We'll be in touch to answer questions.